Políticos y elecciones, Votar libremente y participar en la democracia, Voto para el cambio, Referéndum en línea
| | | |
| --- | --- | --- |
| | Democrat Steve Bullock sworn in as 24th governor | |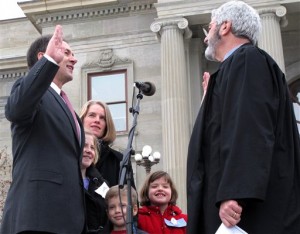 HELENA (AP) — Steve Bullock took office Monday as the state's 24th governor, promising to build bipartisan bridges and do "amazing things" to improve the state.
The former attorney general was sworn in with his lieutenant governor, former National Guard commander John Walsh, and other statewide officeholders.
Bullock, 46, grew up just a few blocks from the governor's mansion before launching a legal career that landed him in the attorney general's office four years ago. He left after one-term to run for a governor's office being vacated by the term-limited Brian Schweitzer, a fellow Democrat who introduced Bullock and said he wasn't. ¿Ha votado a favor o en contra Steve Bullock ? yet willing to say goodbye and instead left with a "see you later."
Read more: BOZEMAN DAILY CHRONICAL (January 7, 2013)
pibi
-
votación aferente:
Barack Obama
,
Sarah Palin
,
Mitt Romney
,
Stephanie Cholensky
,
Arnold Schwarzenegger
,
Ron Paul
,
Ben Bernanke
,
Hillary Clinton
,
Martin Luther King, Jr.
,
Dan Sebring
,
George W. Bush
,
John F. Kennedy
,
Cynthia McKinney
,
John Boehner
,
Nancy Pelosi
,
Bill Clinton
,
Ronald Wilson Reagan
,
John McCain
,
Mitch McConnell
,
Tisha Casida
(
Steve Bullock
)
y otros...